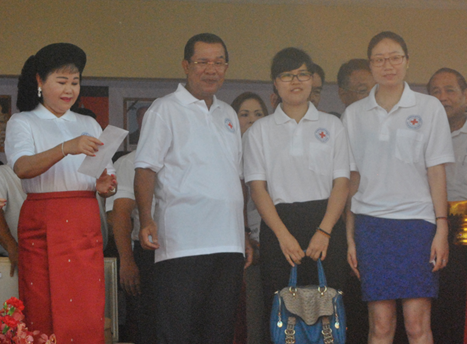 The Representatives of the SSEZ Company Is In the Donation Site.
On 8th May, the activity"The International Red Cross and The 151st Anniversary of Red Crescent Movement"was held by the Red Cross in Cambodia .the Prime Minister Hunsen and the chairman of the Red Cross took part in this activity and received the donations from the ambassadors of other countries in Cambodia, international organisations, non-governmental organizations and other private companies.
Hunsen said conducting this activity is to encourage people from all walks of life to involve in Humanitarian work and helping the compatriots who are suffering from disasters or living in impoverish. He hoped through the supporting and sponsoring from enthusiasts, the expectation could be delivered to the helpless old men, orphans, HIV sufferers and the victims of a natural calamity.
The SSEZ Company is a transnational corporation. Even though it is in its construction period and need a large amount of money to make investment, it does not give up the social responsibility. A variety of actions have been taken by the SSEZ Company such as: establishing the SSEZ Training Center, teaching Chinese and working skills for local workers voluntarily, improving the teaching conditions by donating more than 250000 US dollars to build school, paving roads and bridges and rebuilding the temples for near villages.
Donating to the Red Cross in Cambodia is an indicate of a kind of feelings of the SSEZ Company which is supporting the constructing the society and assistant the vulnerable groups in Cambodia. The SSEZ Company donated anther $30000 this time. This is the fifth time of the SSEZ Company to make donation and the accumulating charitable donation reached 165000 US Dollars.